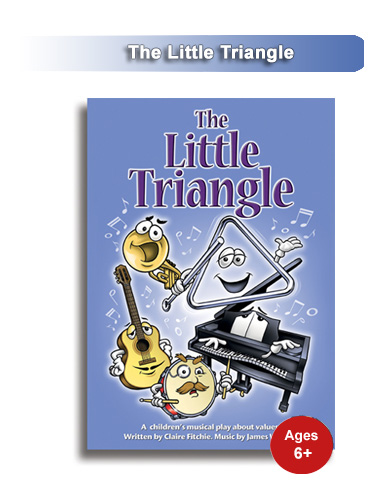 Written by Claire Fitchie.
Music by James Wright.
The Little Triangle has been told he may join the orchestra and that he is very important. He is excited and goes to meet the other instruments, such as the Grand Piano, the Guitar and the Trumpet. None of them have time for the Little Triangle as they all think he is insignificant and quiet. Before long the Little Triangle walks away dejected. But the Great Conductor has something to say about this and before long the Little Triangle finds his value.

This mini production is brought to you by the brilliant talents of Claire Fitchie and James Wright. It combines a funny and moving script with six catchy and meaningful songs, teaching about the value of each and every person and how we must respect each other. With themes such as humility, appreciation, tolerance and unity, this will be a production that grips children of all ages.

The CD contains professionally produced tracks of all the songs with and without vocals. Lyrics and the script can also be accessed digitally on the CD as PDFs. Our indispensible book contains all you need - full piano score, melody lines, harmonies, chord charts, and photocopi- able lyrics for acetate use.
Listen To Samples Below
Download this file -Right Click and Save as...
Complete package. £ 21.50


Approx duration: 30 mins.

Incorporating 6 values songs.

For ages 6+

These are the values

Humility

Appreciation

Tolerance

Respect

Unity