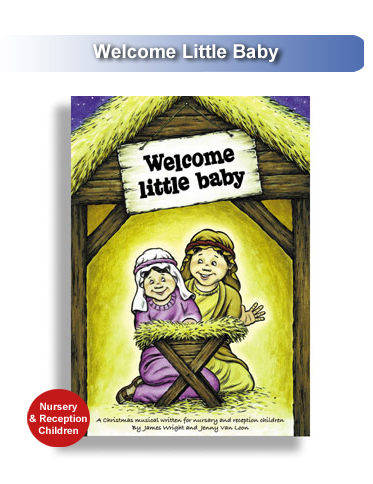 Scripts
We are pleased and proud to present our first musical for Foundation Stage children (nursery and reception) at the high standards you have come to expect from Gottalife Productions. With simple, catchy tunes and repetitive lyrics, from 'Clip, clop, clippety clop,' to 'Here come the wise men 1,2,3' 'Welcome Little Baby' is the musical you have been waiting for.

The songs set the scenes for the action, whilst the narration is read by an adult, retelling the traditional Christmas story we have come to know and love. Professional, contemporary backing tracks, and the option of vocal backing make this a must for your nativity this year. We guarantee your children will want to go on singing these songs long after Christmas is done and dusted!
Listen To Samples Below
Download this file -Right Click and Save as...
Complete package including script, notation, lyric sheets and CD with and without vocals. £ 21.50


By James Wright & Jeni Van Loon.

For nursery & reception children..

Duration: Approx 20 mins.

An angel came to Mary

An angel spoke to Joseph

Clip, clop, clippety clop

Come into the stable, Mary

Welcome among us little baby

Shepherds are watching

Here come the Wise Men, 1 2 3